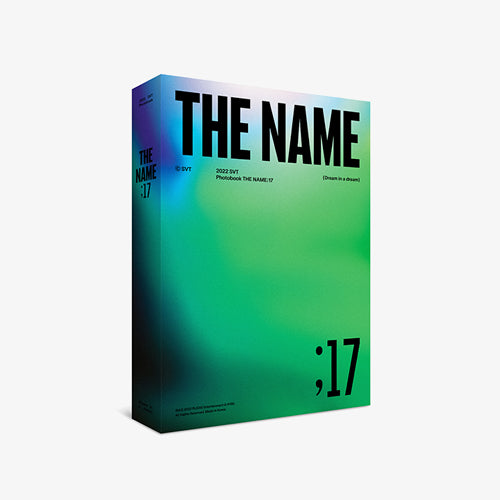 2022 SVT PHOTOBOOK THE NAME;17
Release Date: October 27, 2022 [NOW AVAILABLE: January 8, 2023]
All orders will be shipped out in 3-5 business days once the items are available in the US. 
Package Includes: 
Out Case : 213x300x28 (mm)




Photobook Set : 210×297 (mm) / 116p / 2ea 1set




Poster Book : 180×250 (mm) / 13pcs




Folding Poster Set : 400×280 (mm) / 2ea 1set




Digital Code Card : 54×86 (mm) / about 45mins




Photocard Set ; 54×86 (mm) / 1set of 2 Random




Instant Photo : 54×86 (mm) / 2ea 1set / 2ea 26 Random
Preorder Benefit:
2 Unreleased Mini Photos (2 of 13 Random)




1 Photo Frame
Order Cancellation
We won't be able to guarantee the cancellation of your order. Once orders are fulfilled or shipped out, we are not able to provide refunds. Items offered during the pre-order period cannot be cancelled, so please verify your information before purchasing!
Fulfillment Process
After placing your order, please allow 2-5 business days for us to process the order. We work with official suppliers that offer guaranteed authentic items from South Korea. They will ship the items requested to us in Michigan, USA. All orders will come with a valid tracking number 
Customs information
VAT (Value Added Tax), other taxes, custom duties and/or import fees might be added by your destination country and chosen carrier. These additional charges for taxes or customs clearance are the responsibility of the recipient. Unfortunately, we can not estimate what the charges may be since customs and taxation policies vary widely from country to country.
For further details, please contact your destination local customs office or visit their official website.
Additional Notes
Customers are responsible for making sure that the address is filled in correctly. If the item was unable to deliver due to an incorrect address, we unfortunately won't be able to provide a refund.
Shipping delays may occur if your package is subjected to customs clearance.
It is our top priority to make sure that all the products we ship arrive in perfect condition. However, if under specific circumstances you are not 100% satisfied with your purchase, we are here to help.
Please connect with us by sending your emails to info@aidolhouse.com including:
Your Order Number
Product name
The issue with your product
Important Guidelines
- We highly suggest providing an unedited unboxing video for any refund/return inquires relating to our albums and official K-POP merchandise.
- Aidol House shall not be held responsible for the validity of the information of official K-POP products registered and available for sale on the Aidol House website as it has been presented by sellers.
- Only albums and official K-POP merchandise are eligible for returns. No returns offered for other items on our store. The original shipping fees will not be refunded.
- Product case is for protecting content only. Any defect of the case will not be eligible for refund, return or replacement.
- No refund will be granted for returned items with missing components.
Eligibility
You will be eligible for refund, return or store credit at our discretion if:
- The product arrives faulty, defective, missing and/or the wrong product.  Please note that if you're requesting a full refund for a faulty and/or defective item, the declared issue must be substantial enough to the point where it can longer perform its function (e.g. chipped cups, ripped plushie, etc.). Otherwise it will be subjected to a partial refund, store credit or replacement based on the severity of the defect at our own discretion.
- You have not received your product for over 90 days. 
Return Procedure
- Please submit your return request within 2 weeks of receiving your package.
- All returned items must be packaged and returned unopened/sealed in its original packaging. If not, we can only provide a partial refund for you. 
There are certain situations where only partial refunds are granted:
- Any item not in its original condition
- Any item that is returned late (shipped over 14 days after receiving the return label).